SIKHOTE-ALIN POSTAGE STAMPS
Here it is --- the postage stamp that recorded the Sikhote-alin meteorite fall in 1947. The event was witnessed by artist P.I. Medvedev who was sitting at his window in the town of Iman and witnessed the fall. He recorded his impression of this famous meteorite fall as a painting while it was still fresh in his mind. The painting was reproduced as a postage stamp to commemorate the 10th anniversary of the event in 1957. These uncirculated stamps are offered here for sale as a single stamp or a block of four. They will be shipped in a plastic case similar to those used to protect baseball cards. This makes a fine combination along with a Sikhote-alin meteorite for your display. The most beautiful iron meteorite in the world along with a strikingly colorful postage stamp recording the event. Supplies of this stamp are limited.
Click on image to enlarge block of four:
SINGLE STAMP $50- BLOCK OF FOUR $225-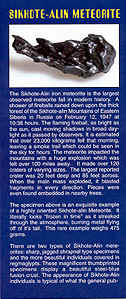 Also included with purchase is full color Sikhote-alin informational brochure.

Home | Sikhote-alin Meteorites | All Other Meteorites | Photo Gallery
Ordering Information | Found a Meteorite?
All photos and text are copyright and may not be used without permission.